Last Chance
basil bangs | table cloth | botanica - 3DC
basil bangs | table cloth | botanica - 3DC
Regular price
$179.00
$179.00
Basil Bangs collection of high performance tablecloths and placemats are the bomb. Their signature outdoor canvas is coated to ensure easy care and cleaning. Spills simply bead off and any food is an easy wipe down. No mess, no fuss, they're a no brainer for easy dinners and relaxed entertaining.
They've married Du Pont's superior Teflon technology with their beautiful outdoor canvas to give you a tablecloth that looks and feels like a fabric, but with all-star stain resistance. So bombsite or not, here's to no more soaking!
So what are you waiting for break out the bolognese, invite toddlers to tea, or invite your klutziest of guests to pour the red wine for Sunday roast. No more washing, no more soaking t s time to dine.
Care instructions: The tablecloths and placemats are designed to simply wipe clean with warm soapy water. Machine wash (if you insist), use mild detergent on a cold cycle. Cool iron on reverse side.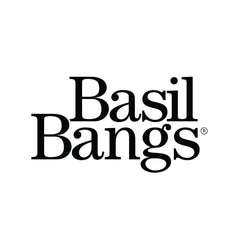 Click for more ideas from BRAND | Basil Bangs
Basil Bangs, is the Australian company for all things outdoor design. They offer a wide variety of colourful shade umbrellas, cushions, and selected outdoor furniture. For your garden, your terrace, or even your next day at the beach. Basil Bangs products encourage spending more time in nature – and therefore, it's only logical that one of their fundamental values is sustainability.
Co-founded by four friends in 2010, Basil Bangs designs beautiful, quality outdoor products that keep you looking cool and feeling comfortable all year round.

Based on Sydney's northern beaches, Basil Bangs is headed up by husband-and-wife duo Mike Durante and Krista Huebner and brings together their creativity and passions for product design, surfing, art, and textiles.

A love for vintage umbrellas and a pursuit of great design inspired the vision for creating a collection of 'contemporary classics', a range of beach umbrellas inspired by the 1960s and 70s but decisively modern in engineering and finishes.

Known for distinctive prints rich in colour and unique in artistic expression their approach to design is instinctive and fun, involving regular collaboration with artists and designers from around the world. What began as a modest range of beach umbrellas has since grown into a considered collection of premium outdoor products for both the rain and sun; because the marriage of style, art, and great design is for all seasons.
Click for more ideas from DESIGNER | Louise Jones
Louise Jones is a Melbourne-based designer specialising in pattern and illustration. Her original pattern and artwork is characterised by bursts of colour, botanical motifs and clean lines.
Louise uses a combination of different mediums in her practice, including watercolour painting, illustration and her own photography. Creating original and custom patterns for fabric and wallpaper, her work is predominately featured in interiors.

From an early age, Louise was surrounded by her mother's flourishing garden and it's vast collection of ferns, flowers, natives and succulents. Exploring new gardens and parks is a constant source of inspiration for Louise's work.

When she's not in her Richmond studio, Louise devotes her time to her baby girl Grace and her growing family.
Continue Reading
Free delivery australia-wide (does not apply to bulky products) Top3 members receive free standard delivery Australia-wide for orders over $100
shop risk-free with 30-day returns
international shipping available
---