Last Chance
basil bangs | umbrella base 14kg | square white - DC
basil bangs | umbrella base 14kg | square white - DC
Dimensions: 50 x 45cm high | 4cm max pole diameter | 14kg
Material: mild steel (sandblasted, metalised and powder coated)
Regular price
$175.00
$175.00
STANDARD SQUARE UMBRELLA BASE
This 14kg square umbrella base features a stealthy low profile and gives you no excuse to avoid setting up the umbrella this summer.
Purpose-built for the Go-Large umbrellas, the Standard Base is best suited to table settings, more protected positions, and can also be used with any Basil Bangs beach umbrellas.
Features:
- 14kg powder coated, slim-line base plate
- Compatible with all Basil Bangs umbrellas
- Two horizontal screws secure your umbrella to the base (without damaging the pole)
- Powdercoasted steel spigot
- Detachable pole spigot and base plate for easy storage
Its design allows for being bolted to decking for more permanent installations if desired.
Accommodate umbrella poles up to 40mm in diameter.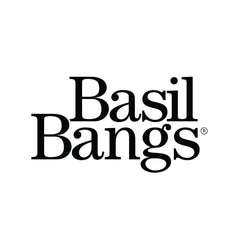 Click for more ideas from BRAND | Basil Bangs
Basil Bangs, is the Australian company for all things outdoor design. They offer a wide variety of colourful shade umbrellas, cushions, and selected outdoor furniture. For your garden, your terrace, or even your next day at the beach. Basil Bangs products encourage spending more time in nature – and therefore, it's only logical that one of their fundamental values is sustainability.
Co-founded by four friends in 2010, Basil Bangs designs beautiful, quality outdoor products that keep you looking cool and feeling comfortable all year round.

Based on Sydney's northern beaches, Basil Bangs is headed up by husband-and-wife duo Mike Durante and Krista Huebner and brings together their creativity and passions for product design, surfing, art, and textiles.

A love for vintage umbrellas and a pursuit of great design inspired the vision for creating a collection of 'contemporary classics', a range of beach umbrellas inspired by the 1960s and 70s but decisively modern in engineering and finishes.

Known for distinctive prints rich in colour and unique in artistic expression their approach to design is instinctive and fun, involving regular collaboration with artists and designers from around the world. What began as a modest range of beach umbrellas has since grown into a considered collection of premium outdoor products for both the rain and sun; because the marriage of style, art, and great design is for all seasons.
Bulky item. Please note: Bulky items may not be able to ship to a PO box. Delivery calculated at checkout
shop risk-free with 30-day returns
international shipping available
---