baccarat | harcourt our fire candlestick | silver
baccarat | harcourt our fire candlestick | silver
Regular price
$2,400.00
$2,400.00
Add drama and decadence to your interiors or table spread with this Our Fire candlestick from Baccarat. Exquisitely crafted in France from the finest crystal and accented with classic detail, the three part lamp shade candlestick will add unique flair and sophistication to any room. Designed by iconic designer Philippe Starck, it's inspired by the inner mystery of light and history and comes with two tea lights included.
The candelabra is made up of three sections: the base is a Harcourt candlestick, followed by a candleholder inspired by the form of Baccarat s Harcourt glass, and finally a crystal lampshade with a glittering metallic finish. Light, filtered by the magic of crystal, flickers from the flame of the candle and turns into a magic glow.
Each candleholder carries the 'Baccarat by Starck' label.
Wipe clean. Made in France.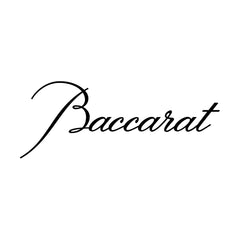 Click for more ideas from BRAND | Baccarat
Founded in 1764, Baccarat is renowned the world over for its magnificent and innovative works of crystal. Baccarat has become a national symbol of France's art de vivre, and the company's heritage of excellence in design is matched only by its continuing efforts to cultivate creativity in the next generation of great artists. The Baccarat collection is full of timeless masterpieces, from jewellery to sculptures for the home, which translate beautifully in any language.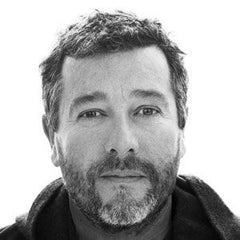 Click for more ideas from DESIGNER | Philippe Starck
Philippe Starck was born in 1949. From his childhood spent beneath the drawing tables of his airplane building, aeronautic engineer father, he retains a primary lesson: everything should be organised elegantly and rigorously, in human relationships as much as in the concluding vision that presides over every creative gesture. His absolute belief that creation should be used and enjoyed by all sees him relentlessly endeavouring to do well, right down to the tiniest detail.
But years later has he really left his first improvised office? According to him, not completely. "Ultimately they were children's games, imagination games, but thanks to various skills, especially engineering, something happened. I'm a kid who dreams and at the same time I've got that light-heartedness and gravity of children. I fully accept the rebellion, the subversion and the humour."

Starck first showed interest in living spaces while he was a student at the Ecole Nissim de Camondo in Paris, where in 1969 he designed an inflatable house, based on an idea on materiality. This revelation bought his first success at the Salon de l'Enfance. Not long afterwards, Pierre Cardin, seduced by the iconoclastic design, offered him the job of artistic director at his publishing house.

In 1976 and a few emblematic objects later, including a flying lamp and a portable neon sign, this intrepid dreamer created the audacious decor of the night club, La Main Bleue - in Montreuil – demonstrating that no venue is less respectable than another just because of its eccentricity. He went on to do the legendary Parisian nightclub Les Bains Douches and the Starck Club in Dallas.

At the same time he founded his first industrial design company, Starck Product, which he later renamed Ubik after the famous Philip K. Dick novel. Here he initiated his collaborations with the biggest design manufacturers in Italy - Driade, Alessi, Kartell - and the world – Drimmer in Austria, Vitra in Switzerland Swiss and Disform in Spain, among so many others.

In 1983 the general public discovered Philippe Starck when, on the advice of Culture Minister Jack Lang, President François Mitterrand chose his project to decorate the private residences at the Elysée Palace. It symbolised an institutional recognition of design. The following year his fame went global thanks to the success of the Café Costes, a new venue that was functional and elegant, that contained all the essence of Starck architecture while converging with the birth and the flourishing of a community. His reinvention of the codes of the Parisian cafe made it THE cafe par excellence.
Continue Reading
Free delivery australia-wide (does not apply to bulky products) Top3 members receive free standard delivery Australia-wide for orders over $100
shop risk-free with 30-day returns
international shipping available
---