basil bangs | go large patio umbrella 2m | cadet square
basil bangs | go large patio umbrella 2m | cadet square
Regular price
$1,199.00
$1,199.00
Basil Bangs Go Large umbrellas are designed for robust outdoor use in the backyard, patio or in a commercial setting.
Available in a range of canopy colours and sizes, the Go Large range is also customisable for Trade clients.

Features:
Lightweight anodised aluminium pole and frame
Easy-to-use rope and pin mechanism for speedy opening and closing
Woven acrylic high-tensile outdoor canvas
UPF50+ fabric
Reinforced stitching in critical areas for improved durability
Removable canopy for easy cleaning
Replaceable canopy

Dimensions:
Size: 2m square
Total Height: 2.6m
Open canopy clearance: 2m
Closed canopy clearance: 1m
Weight (unboxed): 7kg

Instructions:
To install your umbrella, lie the canopy half down horizontally on a stable surface. Take lower pole and gently screw into the upper half of the umbrella, ensuring that the threads line up. In case of any resistance, stop, and add some lubricant to the pole. Once assembled, place umbrella into the base. DO NOT try to screw the umbrella halves together in a vertical position. If it is a press stud connection, simply click together.
Do not leave umbrella open when unattended.
Umbrella should be closed in adverse weather conditions.
Always secure your umbrella to an appropriate base.
If using a mobile base, ensure enough weight is applied to the base eg. sand bags or weight bags (taking into account the weather conditions).
Any modifications to your umbrella may invalidate the warranty.
Hose frame with water periodically (more frequently if you live in a salty or industrial environment).
The canopy can be washed with warm soapy water to remove marks.
Do not used bleach based detergents to clean the canopy.
Make sure umbrella is dry and clean prior to storing away for extended periods of time to prevent mould from developing.
Be careful when closing the umbrella to ensure that the canopy does not get caught or pinched by the umbrella arms. This is particularly important before storing the umbrella away for extended periods of time or if the umbrella is to be laid horizontally for storage. Damage to the fabric caused by pinching is not covered by warranty.
Inspect the installation fitting/base on a regular basis and tighten as necessary.

Care + Cleaning:
Hose frame with water periodically, and more frequently if you live in a salty or industrial environment.
The canopy can be removed and washed with warm soapy water to remove marks.
Please note: do not used bleach based detergents to clean the canopy as this may damage the fabric.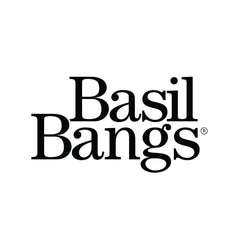 Click for more ideas from BRAND | Basil Bangs
Basil Bangs, is the Australian company for all things outdoor design. They offer a wide variety of colourful shade umbrellas, cushions, and selected outdoor furniture. For your garden, your terrace, or even your next day at the beach. Basil Bangs products encourage spending more time in nature – and therefore, it's only logical that one of their fundamental values is sustainability.
Co-founded by four friends in 2010, Basil Bangs designs beautiful, quality outdoor products that keep you looking cool and feeling comfortable all year round.

Based on Sydney's northern beaches, Basil Bangs is headed up by husband-and-wife duo Mike Durante and Krista Huebner and brings together their creativity and passions for product design, surfing, art, and textiles.

A love for vintage umbrellas and a pursuit of great design inspired the vision for creating a collection of 'contemporary classics', a range of beach umbrellas inspired by the 1960s and 70s but decisively modern in engineering and finishes.

Known for distinctive prints rich in colour and unique in artistic expression their approach to design is instinctive and fun, involving regular collaboration with artists and designers from around the world. What began as a modest range of beach umbrellas has since grown into a considered collection of premium outdoor products for both the rain and sun; because the marriage of style, art, and great design is for all seasons.
Bulky item. Please note: Bulky items may not be able to ship to a PO box. Delivery calculated at checkout
shop risk-free with 30-day returns
international shipping available
---