basil bangs | patio umbrella cover
basil bangs | patio umbrella cover
Regular price
$149.00
$149.00
This protective Umbrella Cover keeps your Go-Large, Caspar, Sundial and Jardin umbrella canopy looking like new, minimising wear and tear when not in use.

Features:
Basil Bangs signature trims on high quality, black outdoor canvas material
Strong UV fade resistance and waterproofing
A heavily reinforced tapered end (so it won't tear or split)
Outdoor anti-corrosion zipper
A sturdy aluminium rib along one side for easy installation.
Compatible with all Go Large, Caspar, Sundial and Jardin Umbrellas. Not suitable (or necessary) for Beach Umbrellas.

Instructions:
Collapse your Go Large, Sundial or Jardin umbrella and secure it with the strap.
Unzip the protective cover and holding it by the aluminium rib, slide it over the top of the umbrella and down over the canopy.
Making sure the canopy is secured safely inside the cover (be careful to tuck any fabric inside the cover), zip it up and Voila! Your umbrella is now ready for bed.
* Please ensure the canopy is completely dry before storing your umbrella.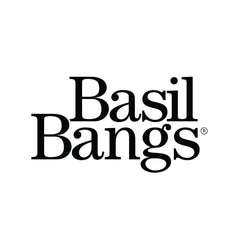 Click for more ideas from BRAND | Basil Bangs
Basil Bangs, is the Australian company for all things outdoor design. They offer a wide variety of colourful shade umbrellas, cushions, and selected outdoor furniture. For your garden, your terrace, or even your next day at the beach. Basil Bangs products encourage spending more time in nature – and therefore, it's only logical that one of their fundamental values is sustainability.
Co-founded by four friends in 2010, Basil Bangs designs beautiful, quality outdoor products that keep you looking cool and feeling comfortable all year round.

Based on Sydney's northern beaches, Basil Bangs is headed up by husband-and-wife duo Mike Durante and Krista Huebner and brings together their creativity and passions for product design, surfing, art, and textiles.

A love for vintage umbrellas and a pursuit of great design inspired the vision for creating a collection of 'contemporary classics', a range of beach umbrellas inspired by the 1960s and 70s but decisively modern in engineering and finishes.

Known for distinctive prints rich in colour and unique in artistic expression their approach to design is instinctive and fun, involving regular collaboration with artists and designers from around the world. What began as a modest range of beach umbrellas has since grown into a considered collection of premium outdoor products for both the rain and sun; because the marriage of style, art, and great design is for all seasons.
free delivery australia-wide (does not apply to bulky products) Top3 members receive  Free standard delivery Australia-wide for orders over $100 (does not apply to bulky products) read more
shop risk-free with 30-day returns
international shipping available
---