Last Chance
blunt | coupe umbrella | charcoal - DC
blunt | coupe umbrella | charcoal - DC
Regular price
$139.00
$139.00
Discover the ultimate balance of coverage and convenience with the lightest full-length umbrella. Slim, stylish and effortlessly sturdy, the Blunt Coupe umbrella is perfect for keeping in the car, ensuring you are always prepared.
Style: Full-length stick
Open Diameter: 105cm
Closed Length: 73.5cm
Weight: 428g
Wind-tested to: Category 1 hurricane*

Warranty: Blunt umbrellas are designed and built with meticulous craft and care to ensure they stand the test of time. They have a global 2 year manufacturer's warranty.

*Measured and evaluated by professionals (WSP) in the southern hemisphere's most powerful wind tunnel (1.1MW). Tested to the point of destruction, at a fixed angle with a mechanical arm on Jan 25th 2021.

Cleaning and drying your Blunt umbrella:
When cleaning your canopy, use a clean cloth and some warm water to clear any marks. Make sure you keep away from any chemical detergents and bristle brushes as these can damage the material. Blunt canopies are not machine washable.
Make sure you dry out your umbrella completely to avoid any mildew or water stains forming. The best way to dry your umbrella is to leave it fully open. But if space is limited (or you're a little superstitious), your Blunt can be dried by standing it with the handle up and the canopy tie released.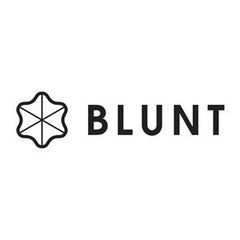 Click for more ideas from BRAND | Blunt
While living in London and dealing with rainy commutes, Kiwi engineer Greig Brebner noticed how unsafe umbrellas were - being so tall, the spikes often poked him in the eye. He also noticed how umbrellas had become a throwaway commodity, mainly due to poor-quality materials and flimsy, outdated design.
So to save his eyes and reduce the number of broken umbrellas that end up as landfill each year, Greig set out to do something no one had done since 1928 - to re-invent the umbrella. And he began by re-designing the mechanisms.

Going right back to the drawing board, Greig married engineering innovation with no-fuss design styling to create something that exceeded even his own expectations: a ridiculously strong umbrella that could handle seriously wild weather.

After pushing countless prototypes to the limits in wind tunnels and on the blustery hills of Auckland, Greig finally did it. He'd re-invented the umbrella. And it just so happened to become the best umbrella in the world.
Continue Reading
Free delivery australia-wide (does not apply to bulky products) Top3 members receive free standard delivery Australia-wide for orders over $100
shop risk-free with 30-day returns
international shipping available
---