freifrau | marie armchair | steel frame bronze | adora canelo leather
freifrau | marie armchair | steel frame bronze | adora canelo leather
Material: leather: Adora – Canelo with bronze glaze leg ME025
Regular price
$3,660.00
$3,660.00
When you sit down on the Freifrau Marie chair, you've arrived – arrived in the here and now. The casually crumpled upholstery of its seating shell is nothing short of an invitation to sit down, lean back, and switch off – or to communicate, to exchange ideas, to be social. Either way, the design is open, receptive, like a pair of arms stretched out to give someone familiar a welcoming hug. Yes, Marie is a safe haven.

In design terms, the chair is defined by the relaxed upholstery style of its shell, nestling in a delicate steel-tube frame whose rear bar pinches the back of the cushion along the middle, underscoring Marie's laid-back appearance. As is the case with Freifrau pieces, there is a variety of fabric and leather coverings available to respond to all tastes, from the classic to the extravagant, and the covering for the shell is zipped on and then screwed to the frame as part of the seat. By the same token, it can be unscrewed and changed – and when it reaches the end of its service life, the chair can easily be separated back out into its individual parts.

Available in various leathers and leg finishes.
Pricing for Marie starts from $2,600 per chair in fabric.
ADORA LEATHER | High quality, soft aniline leather. Due to the open pores, these leathers are pleasantly warm, supple and very elegant. This open-pored smooth leather is a pure aniline, natural cowhide from Europe. The ecological mineral tanning with high quality colorants and fatliquors corresponds to the highest quality standards. The leathers are produced in an environmentally friendly way, without the use of AZO dyes. Weight 1.2 -1.4 mm.

top3 deep dive into freifrau + janua >
Please note: All Freifrau pieces are custom made to your specifications.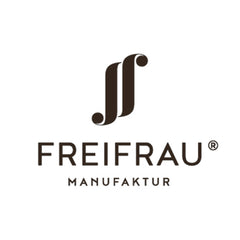 Click for more ideas from BRAND | Freifrau
Furniture made of passion. Freifrau represents well-being in all aspects - design, functionality, materiality and a familiar service. In cooperation with a team of renowned designers and newcomers they produce seating furniture that meets their high demands regarding both aesthetics and design. All Freifrau products are designed and made in Germany.
EXCLUSIVE TO TOP3 BY DESIGN IN AUSTRALIA

If you are interested in any Freifrau pieces or would like to discuss Freifrau products for your next project, please contact orders@top3.com.au and we are happy to help with your enquiry - or please see the links below to get started on your Freifrau journey.
 > BROWSE THE FREIFRAU WEBSITE >

 > PRICELIST - FULL FREIFRAU 2023-24 AUD >

 > PRICELISTS - INDIVIDUAL FREIFRAU FAMILIES >

 > MATERIALS/SWATCH LIBRARY >
Special order any Freifrau piece in your selection of fabrics and finishes. 

MADE IN GERMANY - Special order items and out of stock items have a lead time of 20 - 22 weeks from the time of order confirmation.

> top3 deep dive into freifrau + janua >

What started back in 2012 as a one-man show has now, in little more than a decade, become an established European design brand: Freifrau Manufaktur. Operating from Lemgo, a small town in Westphalia, Germany, this exclusive manufacturer of seating furniture is characterised by the highest possible levels of comfort, lovingly-rendered details, and exacting quality and sustainability standards. 
When, in 2012, trained carpenter Hansjörg Helweg decided to resign from his job, he had a clear vision in his mind – and set up Freifrau, a brand for seating furniture which, right from its beginnings, has always been different.

Freifrau furniture is elegant, stylish, and, true to the meaning of its name in German (literally 'free woman'), often decidedly feminine. That's why the various collections are called by female forenames – that, and because the names give them a personality.

A favourite here at top3 by design, The Leya series, introduced as a single model and then developed into a teeming collection of chairs, armchairs, benches, barstools, rocking and swinging chairs, has proven to be a real milestone on Freifrau's journey. Supreme quality and comfort and unmistakable style.
Designed seating, and something personal, too, that´s what Freifrau stands for: "We have the great fortune of working with an upholsterer in the region," says Hansjörg Helweg, "where we can easily carry out quality checks on fabrics." This enables Freifrau to retain its exceptionally high standards for leather and textile coverings while also allowing customers to personalise their pieces with their own choice of fabric. Freifrau products only ever 'wear' the finest apparel!

Birgit Hoffmann, Creative Director at Freifrau from day one, working with Christoph Kahleyss, with whom she runs a design bureau, is the woman behind the Amelie and Leya lines, as well as several other Freifrau products. Another part of her role is to manage cooperation with new designers as they help the brand to expand its product range in an organic, authentic way.
Freifrau's stable of designers includes world-renowned names such as Sebastian Herkner (Ona and Theia), and Hanne Willmann (Nana)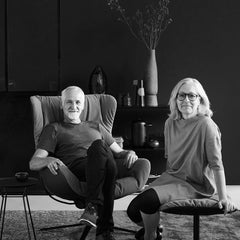 Click for more ideas from DESIGNER | Hoffmann Kahleyss Design
The Hoffmann Kahleyss design bureau was set up in Hamburg in 2013. Founders Birgit Hoffmann and Christoph Kahleyss produce furniture designs and concepts for interiors, exhibitions, showrooms, and photo shoots, giving them leading roles in shaping whole collections and identities for brands such as Freifrau Manufaktur and Janua; they also work with companies such as Rolf Benz, Solpuri, Möller Design, and Treca Interiors Paris. Their approach to design is functional without being cold; their furniture pieces are characterised by elegance, by a certain lightness which balances the soft with the straight, the decorative with the voluminous, and the playful with the structured.
All Hoffmann Kahleyss designs come with an unexpected detail: it could be sophisticated indents in upholstery or metal table struts with varying widths. Whatever the stylistic element, though, it becomes a defining feature which makes the piece unmistakable without drawing too much attention to itself.
In the same way as each Hoffmann and Kahleyss product is the result of seemingly opposite shapes and styles, the two designers' characters are also in productive contrast to each other: Birgit Hoffmann, born in1968 in Munich, is passionate and spontaneous by nature, with a preference for trying out something new; Christoph Kahleyss, meanwhile, was born in 1963 in Oldenburg at the other end of Germany and takes a calm, structured approach to what he finds, ordering new things into an existing system.

The fact that each has an intuitive understanding for how the other works is as important for their design process as the wealth of know-how and experience they have. Both designers already had extensive careers behind them when they met in Peter Maly's bureau, where they – at different times – were employed before, in 2009, becoming partners in the Hamburg designer's firm. Birgit Hoffmann began by training as a ceramist before going on to study industrial design at the Muthesius University of Fine Arts and Design in Kiel; she then worked at Studio & Partners in Milan, becoming senior designer for Peter Maly in 2000 and then working under her own name from 2006 onwards; since 2011, she has been the art director at Freifrau Manufaktur. After training as a carpenter, Christoph Kahleyss also studied industrial design in Kiel before starting Berger Associates in New York; he then went to Jürgen Lange Design in Stuttgart. In 1993, he set up his own bureau and began teaching at Muthesius; later, he also started teaching at the JAK Fashion Academy in Hamburg.

Birgit Hoffmann and Christoph Kahleyss run their studio jointly. While they are based in Hamburg's St. Pauli quarter, their pieces have a flair and style more reminiscent of Italy.
Bulky item. Please note: Bulky items may not be able to ship to a PO box. Delivery calculated at checkout
shop risk-free with 30-day returns
international shipping available
---