galina dixon | gift tag | merry christmas black + white text | pack of 8
galina dixon | gift tag | merry christmas black + white text | pack of 8
Dimensions: 5.5 x 9cm high
Material: 100% recycled card
PRINT: Double-sided black and white
PAPER: Premium 100% recycled card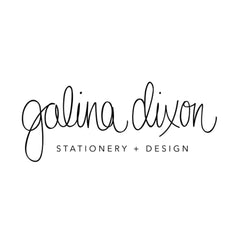 Click for more ideas from BRAND | Galina Dixon
GALINA DIXON is a luxury stationery brand that launched its first collection in 2017. Each paper product features my unique hand lettering, and is a small piece of art. Every letterform or drop of ink is crafted with love and fine attention to detail. All paper products are proudly printed in Australia on premium environmentally-friendly paper.
Click for more ideas from DESIGNER | Galina Dixon
GALINA DIXON is an artist and a stationery brand. Galina, pronounced gah-lee-nah, was born in Russia, grew up in New Zealand, and now calls Australia home. She is the creative director and designer behind the luxury stationery brand GALINA DIXON, which in essence is feminine, minimal and modern.

She is a creative director, designer, daydreamer and mum of boys. She loves finding ways to tell someone they are special. She believes in the handwritten note and in keeping it simple, yet elegant. She believes that beautiful words on gorgeous paper can bring joy, inspiration, comfort and spread love. After 10+ years in the design and advertising industry in Sydney, she moved up the coast, to set up a home studio and started a stationery brand that she had been daydreaming about.
Free delivery australia-wide (does not apply to bulky products) Top3 members receive free standard delivery Australia-wide for orders over $100
shop risk-free with 30-day returns
international shipping available
---