Last Chance
georgie paws | windsor dog collar | chive small - LC
georgie paws | windsor dog collar | chive small - LC
Dimensions: 32cm
Material: buffalo leather
Regular price
$45.00
$45.00
For hounds who like their collars lighter yet still strong, the Windsor is a hand plaited 4 strand design. It as designed especially with the "Oodle" Dogs in mind... Cavoodles, Labradoodles, Cockapoodles and Smoodles!
Deliciously soft handmade 4 plait buffalo leather collar perfectly matched with the Windsor lead.
3 good reasons for using buffalo leather:
- the actual leather is softer, stronger and more stable.
- it resists cracking in the seawater.
- absorbs and releases moisture making it comfortable to use.
Stainless steel hardware ensures your hound is safer and the deliciously soft leather shapes readily to the neck of your hound.
Sizing is flexible with the flat plait design.
COLLAR SIZES
SMALL
32cm long x 2cm wide
First Hole 20cm - Last Hole 28cm
Fits most Yorkies, Maltese, Toy Poodles
MEDIUM
42cm long x 2cm wide
First Hole 27cm - Last Hole 37cm
Fits most Border Terriers, Beagles, French Bulldogs
LARGE
52cm long x 2cm wide
First Hole 37cm - Last Hole 47cm
Fits most Border Collies, Golden Retrievers
EXTRA LARGE
62cm long x 2cm wide
First Hole 47cm - Last Hole 57cm
Fits most German Shepherds, Boxers, Basset Hounds - and goats!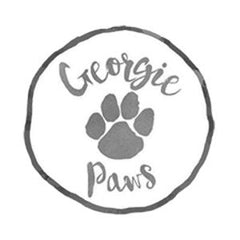 Click for more ideas from BRAND | Georgie Paws
Georgie Paws is the brainchild of 14 year old business-girl, Violet Coleman. Her passion for dogs got her started in the industry, designing stylish leather dog collars and leads. Naming the business after her own Border Terrier, George, Violet finds inspiration in all things equine and the high-end leather merchants.
Free delivery australia-wide (does not apply to bulky products) Top3 members receive free standard delivery Australia-wide for orders over $100
shop risk-free with 30-day returns
international shipping available
---