jam factory | kink oil bottle | grey
jam factory | kink oil bottle | grey
Dimensions: 32cm high approx
Material: glass + rubber + metal
Regular price
$175.00
$175.00
The kink oil and vinegar bottles are made using traditional glass blowing techniques. Working together as a synchronised team, glassblowers gather molten glass from the furnace on the end of a steel blow-pipe. The form is blown to the desired size using calipers to measure the length and width. The bottle is then transferred or 'puntied' to another steel rod to enable the lip of the bottle to be finished. Finally, the neck of the bottle is gently heated with a torch while constantly rotating - the kink is formed by gravity when the rotation stops. The design and production process ensures that each piece is unique. The simple kink in the neck emphasises the function of the bottle as well as the material qualities of hand-blown glass - it also adds a sense of delight to the ergonomics of pouring. Kink is a useful object with a bold sculptural presence.
Due to the handmade nature of the product dimensions, shape and colour will vary on the individual pieces.
Wash in hot soapy water, dishwashing is not recommended.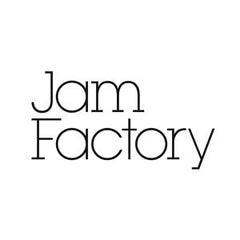 Click for more ideas from BRAND | Jam Factory
JamFactory supports and promotes outstanding design and craftsmanship through its widely acclaimed studios, galleries and shops.
A unique not-for-profit organisation located in the Adelaide city centre, JamFactory is supported by the South Australian Government and recognised nationally and internationally as a centre for excellence. For almost 40 years JamFactory has been presenting outstanding exhibitions and public programs and nurturing the careers of talented artists, craftspeople and designers.
Continue Reading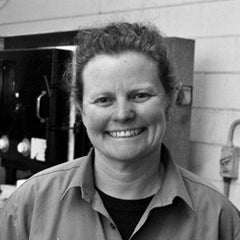 Click for more ideas from DESIGNER | Deb Jones
Deb Jones was born in NSW and spent her 20s studying at art school or travelling, graduating from the Canberra School of Art with a Bachelor of Visual Arts in1992. She then made the move to the JamFactory in Adelaide where she completed the two-year Associate training program in the Glass Studio from 1993-1994. In 1995 she co-founded a glass studio with fellow artists called Blue Pony Studios. In 2007 she opened a new studio with Jess Loughlin called Gate 8.
Jones has exhibited her work nationally, featuring in major touring exhibitions such as Mind and Matter and Tour de Force: in case of emergency break glass. She has been a prominent artist in the South Australian public art realm with major installations for Adelaide Bus Station, University of South Australia and Lyell McEwin Hospital. Her works are also held in the collections of the National Gallery of Victoria, Tasmanian Museum and Art Gallery, Art Bank Australia and Australian National Parliamentary Library in Canberra.
Jones' work as an artist and as a designer is honest and responds to the beauty of the glass she uses. Her work employs a minimalist sensibility and she is a strong believer in the mentality of 'less is more.' In her spare time she enjoys drawing, making, and designing just about anything.
free delivery australia-wide (does not apply to bulky products) Top3 members receive  Free standard delivery Australia-wide for orders over $100 (does not apply to bulky products) read more
shop risk-free with 30-day returns
international shipping available
---