janua | bb 11 clamp outdoor dining table | 240cm
janua | bb 11 clamp outdoor dining table | 240cm
Regular price
$11,615.00
$11,615.00
Thinking one step beyond and breaking new ground.
With the BB 11 Clamp Table, designer Bernd Benninghoff has created an innovative table system that's still peerless within the design world: For outdoor areas, a special construction was modified. The individual wooden blanks with different widths are intentionally separated by joints. The flat steel clamps support the table top. So simple, so ingenious!
Robinia wood, also called acacia, is the only European wood that can fully replace tropical woods for outdoor use.
In its positive properties it is in no way inferior to the resistant tropical woods and generally even surpasses them. European Robinia forests can be managed sustainably and at the same time regenerate nature.
Click for more ideas from BRAND | Janua
Janua doesn't just make furniture; they engineer and craft it. Timber and stone tables for indoors and out, benches, and cabinets and shelving units. In each piece, they combine unrivaled handcrafted wooden surfaces and rigid metal frames in timeless contemporary shapes. Each object from this highly awarded German manufacturer is handmade and designed to last forever – only to become more beautiful with everyday use.

Most recently Janua was awarded the German 'Brand Of The Century' award, a huge endorsement for this Munich-based design house.

BROWSE JANUA WEBSITE >

SPECIAL ORDER ANY PRODUCT FROM THE JANUA COLLECTION. CUSTOMISE STYLES, FABRICS, AND FINISHES. Browse the Janua Materials library here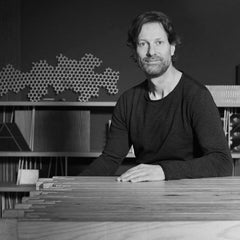 Click for more ideas from DESIGNER | Bernd Benninghoff
Thinking one step further. Exploring new paths. Questioning things with open eyes: Three sentences that put the philosophy of Bernd Benninghoff in a nutshell. With the BB 11 and the BB 31 table, Bernd Benninghoff has created furniture for Janua to date. The table BB 11 is composed of individual wood lamellae held together by two adjustable buckles made of flat steel. Since 2007, Bernd Benninghoff has been teaching design as Professor of Furniture and Interior Design at the University of Applied Sciences in Mainz. With his innovative mindset, he has developed and redefined the design of Janua - we are looking forward to his next ideas.
free delivery australia-wide (does not apply to bulky products) Top3 members receive  Free standard delivery Australia-wide for orders over $100 (does not apply to bulky products) read more
shop risk-free with 30-day returns
international shipping available
---