janua | bc 05 stomp table | 80-90cm | silver
janua | bc 05 stomp table | 80-90cm | silver
Dimensions: approx diameter 80-90cm

Regular price
$6,020.00
$6,020.00
It may look simple, but looks can be deceiving: The BC 05 Stomp is widely viewed as a leading light in the coffee and side table world. With the confidence and poise of a Buddha, this solid slice of tree trunk sits atop a sophisticated metal frame. The BC 05 Stomp can perfectly complement seating in a variety of styles providing a striking symbol of personal taste!

At home in both rustic or refined interiors, Janua sofa and side tables offer the utmost flexibility in aesthetic, height, materials and surfaces. The choice is very much yours.

This solid disc cut from a tree trunk makes an omnipresent statement of individual taste. The different versions of this table with their various surface finishes ooze untamed charisma. The Stomp rests confidently on a filigreed metal frame, and is also available in different versions.

Legs are available in 28cm, 40cm and 52cm. Please specify preferred leg height when ordering. The price shown reflects the full price of your table including legs.

Please note each table top is different. The dimension of the top is calculated from the smallest diameter of the tree disc e.g. 54cm is the dimension 50-60cm).
Click for more ideas from BRAND | Janua
Janua doesn't just make furniture; they engineer and craft it. Timber and stone tables for indoors and out, benches, and cabinets and shelving units. In each piece, they combine unrivaled handcrafted wooden surfaces and rigid metal frames in timeless contemporary shapes. Each object from this highly awarded German manufacturer is handmade and designed to last forever – only to become more beautiful with everyday use.

Most recently Janua was awarded the German 'Brand Of The Century' award, a huge endorsement for this Munich-based design house.

BROWSE JANUA WEBSITE >

SPECIAL ORDER ANY PRODUCT FROM THE JANUA COLLECTION. CUSTOMISE STYLES, FABRICS, AND FINISHES. Browse the Janua Materials library here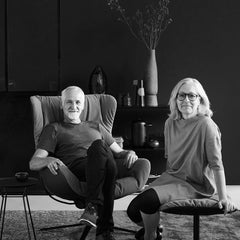 Click for more ideas from DESIGNER | Hoffmann Kahleyss Design
The Hoffmann Kahleyss design bureau was set up in Hamburg in 2013. Founders Birgit Hoffmann and Christoph Kahleyss produce furniture designs and concepts for interiors, exhibitions, showrooms, and photo shoots, giving them leading roles in shaping whole collections and identities for brands such as Freifrau Manufaktur and Janua; they also work with companies such as Rolf Benz, Solpuri, Möller Design, and Treca Interiors Paris. Their approach to design is functional without being cold; their furniture pieces are characterised by elegance, by a certain lightness which balances the soft with the straight, the decorative with the voluminous, and the playful with the structured.
All Hoffmann Kahleyss designs come with an unexpected detail: it could be sophisticated indents in upholstery or metal table struts with varying widths. Whatever the stylistic element, though, it becomes a defining feature which makes the piece unmistakable without drawing too much attention to itself.
In the same way as each Hoffmann and Kahleyss product is the result of seemingly opposite shapes and styles, the two designers' characters are also in productive contrast to each other: Birgit Hoffmann, born in1968 in Munich, is passionate and spontaneous by nature, with a preference for trying out something new; Christoph Kahleyss, meanwhile, was born in 1963 in Oldenburg at the other end of Germany and takes a calm, structured approach to what he finds, ordering new things into an existing system.

The fact that each has an intuitive understanding for how the other works is as important for their design process as the wealth of know-how and experience they have. Both designers already had extensive careers behind them when they met in Peter Maly's bureau, where they – at different times – were employed before, in 2009, becoming partners in the Hamburg designer's firm. Birgit Hoffmann began by training as a ceramist before going on to study industrial design at the Muthesius University of Fine Arts and Design in Kiel; she then worked at Studio & Partners in Milan, becoming senior designer for Peter Maly in 2000 and then working under her own name from 2006 onwards; since 2011, she has been the art director at Freifrau Manufaktur. After training as a carpenter, Christoph Kahleyss also studied industrial design in Kiel before starting Berger Associates in New York; he then went to Jürgen Lange Design in Stuttgart. In 1993, he set up his own bureau and began teaching at Muthesius; later, he also started teaching at the JAK Fashion Academy in Hamburg.

Birgit Hoffmann and Christoph Kahleyss run their studio jointly. While they are based in Hamburg's St. Pauli quarter, their pieces have a flair and style more reminiscent of Italy.
Bulky item. Please note: Bulky items may not be able to ship to a PO box. Delivery calculated at checkout
shop risk-free with 30-day returns
international shipping available
---