krof | collection no.1 | 24 piece cutlery set | champagne gold
krof | collection no.1 | 24 piece cutlery set | champagne gold
Material: Hand finished and polished 18/10 stainless steel with a coloured titanium coating
Regular price
$349.00
$349.00
Beautifully crafted instruments deserve a place alongside beautifully crafted food; and that eating is an art, deserving of artful tools. Why wait for the perfect moment to use your best cutlery and dust off the special crockery; that there's ceremony in today, and pleasure in right now. The 24 piece Champagne Gold set is for those times when silver just isn't enough.
Made from high-grade, dishwasher safe 18/10 stainless steel, titanium coated Champagne Gold in colour and feature the signature four dot logo.

The 24 piece set = 6 place settings.

Included is:
6 x Forks
6 x Knives
6 x Dessert Spoons
6 x Tea Spoons

All cutlery sets come in a custom designed box with quality embroidered cotton drill pouches to easily store your KROF and keep them looking new for years to come.

Specifications:
Hand finished and polished 18/10 Stainless Steel Titanium coated colour finishes. Crafted with precision German forging technology. Manufactured in China.

All KROF cutlery is 18/10 Stainless Steel with a coloured titanium coating applied using Physical Vapour Deposition (PVD). PVD creates a vibrant colour that will stay bright for years to come.

Lifetime guarantee.

The Champagne Gold finish is 18/10 Stainless Steel with a robust coloured titanium coating applied using Physical Vapour Deposition (PVD).

- Your KROF can be washed in the dishwasher.

- Wash your pieces before their first use with warm water and any mild household detergent.

- Avoid detergents with a phosphate level below 3% and avoid sodium.

- Rinse your cutlery before placing in the dishwasher.

- Do not wash in temperatures exceeding 60°C

- Acidity and salt in food can cause damage to stainless steel if left unwashed too long.

- Make sure you clean your pieces after every use to keep them in top condition.

- Do not leave your cutlery to soak.

- Never use an abrasive cloth or scourer, this will cause irreparable scratches.

- Dry your pieces before putting them away with a soft, lint free cloth as detergent and water will leave marks or rust spots if left to air dry.

- Use a soft, lint free cloth with hot water and vinegar to clean your pieces if marks occur.

- Over time and depending on it's use, KROF cutlery will show signs of wear. As with all tools, this is completely normal.

Store Availability
more stock due late November
---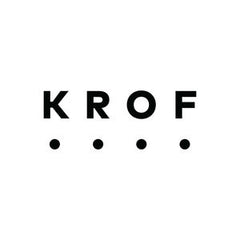 Click for more ideas from BRAND | Krof
Tired of the everyday-ordinary of modern cutlery, product designer Nicholas Johnston and restaurateur Kristian Klein have bridged their complementary skills in design and hospitality to challenge the generic prototype for what might arguably be our most important toolkit.
For the last three years, they've explored various periods and cultural traditions, assessing the ergonomics of how we eat, how we handle food, and how we set our tables. They've asked: How many fork tines are best for twirling a spaghetti vongole? What is the optimal spoon volume for a bowl of Wheaties? What types of serrations are necessary for getting through a tough piece of steak or the hard crust of sourdough? Pertinent questions that only refined design can answer.

After scouring the world to find a Maker with the same passionate attention to detail, they arrived at one whose philosophy aligns with theirs — selecting the highest-grade materials, precise German forming machinery, and hand-polishing mastery.

Distinctive, durable, contemporary and functional — their instruments are created for any table worth setting, any guest worth inviting and any meal worth eating.


Continue Reading
Click for more ideas from DESIGNER | Nicholas Johnston
With a background in engineering, Australian designer Nicholas Johnston has a unique approach to exploring technologies, materials and production processes enabling the creation of products that are iconic, memorable but understated, maintaining true to it's minimalist-elegance aesthetic.
Having worked closely with leading brands including Armani/Casa, Miele, Samsung, Rogerseller - his products and furniture are distributed internationally to many homes with the same inherent purpose; to ensure that throughout it's lifetime it will positively affect ones life enhancing their wellbeing.

Notable accolades:

2019 - Shortlisted for INDE Awards 'Object'
2018 - Winner of a Red Dot Award for 'Product Design'
Continue Reading
free delivery australia-wide (does not apply to bulky products) Top3 members receive  Free standard delivery Australia-wide for orders over $100 (does not apply to bulky products) read more
shop risk-free with 30-day returns
international shipping available
---