lind dna | table mat | leaf small | nupo army green
lind dna | table mat | leaf small | nupo army green
Material: recycled leather
Regular price
$30.00
$30.00
Sustainable lifestyle product, designed and handcrafted in Denmark. It comes with different dynamic shapes, leather finishes and colours, giving infinite possibilities for styling the home. All table mats have multiple purposes.

Made from excess vegetable-tanned core leather from the fashion and furniture industry. The leather is granulated into small pieces, which are pressed together with natural rubber from trees. The result is a Oeko-Tex certified recycled leather quality, consisting of 80% core leather and 20% natural rubber - which is then stained with a water-based colour and added to a beautiful natural surface texture.

top3 deep dive into the lind dna collection >
Easily cleaned with a damp cloth. Certain foods and liquids may result in permanent stains if not removed instantly. Tannins, curries, saffron, paprika, chili. Clean these immediately to avoid permanent damage. Not dishwasher safe.
Cleaning instructions:
Like most natural materials, recycled leather needs some care and maintenance to ensure its long-lasting appeal year after year. A few simple tips will help preserve the recycled leather's natural beauty.
1. Clean your product with a damp cloth and dishwashing liquid.
2. Do not put your products in the dishwasher and do not soak your products in water or soap.
3. Avoid staining from certain foods and liquids such as spices (e.g. paprika, saffron or curry), chili and red wine, as they may leave permanent stains, especially on lighter colours.
4. Avoid placing hot items such as pots and frying pans on your products.
5. Do not fold your recycled leather products.
6. We recommend that you always place your products on dry and plain surfaces. Be careful with oil-treated tables as excess oil might be absorbed by your recycled leather product.
7. Avoid exposure to direct sunlight for longer periods of time.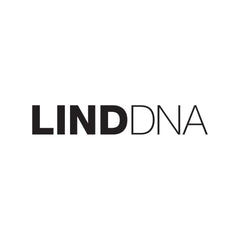 Click for more ideas from BRAND | Lind DNA
Lind DNA designs and manufactures sustainable tabletop products and small furniture (primarily in high-quality recycled leather) in Denmark.

They turn scrap leather from the furniture and fashion industries into exclusive lifestyle and interior designs. The story of Lind DNA begins with the family Lind's discoveries of new opportunities with recycled leather. The unique recycled leather is today the bedrock of most of the Lind DNA designs. It provides outstanding physical characteristics and has proven to be not just decorative, but both water repellent, heat resistant, durable, and easy to clean.

Production of their range in Denmark, use of natural and sustainable materials and impeccable quality combine with sheer passion for subtle design and killer craftsmanship. To create a tabletop brand striving to ensure a sustainable development and production process that respects the environment today and tomorrow.

top3 deep dive into the lind dna collection >

Free delivery australia-wide (does not apply to bulky products) Top3 members receive free standard delivery Australia-wide for orders over $100
shop risk-free with 30-day returns
international shipping available
---