muuto | five pouf | remix 632 extra large
muuto | five pouf | remix 632 extra large
Dimensions: 140 x 45cm high | seat height 42cm
Material: plastic + textile
Regular price
$4,749.00
$4,749.00
The Five Pouf is a versatile, easy-to-use design that is both comfortable and contemporary. With a pentagon shape and linear detailing contrasted against curved edges, the Five Pouf is a unique item that can be used as extra seating or to decorate an unused corner of any room.
Available to order in many fabric and colour variations.

Click for more ideas from BRAND | Muuto
Muuto is one of Denmark's finest and complete designer brands. Deeply rooted in Scandinavian design aesthetics, they offer clean designs and timeless looks that fit into the desired environment, not just the "scandi" look. Expect modern materials, softened colours, and distinctive timeless shapes held together by exquisite craftsmanship.
In fact, their name, Muuto, comes from muutos, meaning a new perspective in Finnish. They handpick leading contemporary designers who are strong interpreters of their philosophy and combine their talents with the passionate Muuto creative team.
You will know their design because it has muutos: objects made sublime through new perspectives, enjoyed across the world, representing the best of Scandinavian design today.

All Muuto products come with a 3-year warranty.

SPECIAL ORDER ANY PRODUCT FROM THE MUUTO COLLECTION. CUSTOMISE STYLES, FABRICS, AND FINISHES.

BROWSE MUUTO WEBSITE >
Continue Reading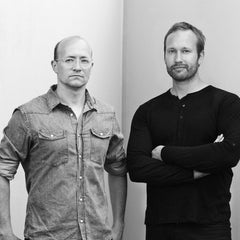 Click for more ideas from DESIGNER | Anderssen + Voll
Anderssen + Voll is a Norwegian design duo, founded by Torbjørn Anderssen and Espen Voll and based in Oslo. The duo have been named both Norwegian and Scandinavian Designers of the Year and have received international awards and recognition for their work with furniture, lighting, and home accessories.

"A good product builds and expands on tradition while simultaneously breaking the rules of said tradition. Modifications and elements of surprise, even changes that are less radical, stimulate thought and reflection, also who may not hold a particular interest in design. This tiny second of reflection is the window of opportunity where we can communicate with the users and that's what we strive to tap into." says the design duo.
Bulky item. Please note: Bulky items may not be able to ship to a PO box. Delivery calculated at checkout
shop risk-free with 30-day returns
international shipping available
---