muuto | flow trolley 3 layer | grey
muuto | flow trolley 3 layer | grey
Dimensions: 57.4 x 41.8 x 88.3cm high
Material: powder coated steel frame | rubber wheels
Regular price
$1,049.00
$1,049.00
The Flow Trolley brings the concept of functional design into a modern context through its grooved trays in embossed metal for a contemporary expression, paired with the flexibility of its wheels that allows for it to be moved from one room into the other. Designed in a monochrome look, the Flow Trolley adds modern storage to any space.
The Flow Trolley is a flat-pack design for eco-friendly shipping in, taking up less space when shipped, while being delivered in packaging that is made using at least 65% recycled material.
Normal Studio on the design: 'With the Flow Trolley, we wanted to create a versatile design that could be used in any setting, be it at home, in the workplace or in a hotel room. With its grooved trays in embossed metal that make for an understated vibrancy, the Flow Trolley adds a contemporarily elegant touch to a traditional form while bringing simple functionality into everyday life.'
Max height: The Flow Trolley must not be assembled higher than 3-Layer. However, it is possible to remove one shelf and build a 3-Layer into a 2-Layer version.
Cleaning and care: It is recommended to clean the trolley with a damp cloth and if necessary only use a mild solution pH neutral cleaner and wipe dry to remove any residues. To minimise the risk of stains and marks, liquid, grease etc. should be removed straight away. If dust gets stuck on the tires of the wheels, remove it with a wet cloth.
Max. load 50kg.
3 year warranty.
Click for more ideas from BRAND | Muuto
Muuto is one of Denmark's finest and complete designer brands. Deeply rooted in Scandinavian design aesthetics, they offer clean designs and timeless looks that fit into the desired environment, not just the "scandi" look. Expect modern materials, softened colours, and distinctive timeless shapes held together by exquisite craftsmanship.
In fact, their name, Muuto, comes from muutos, meaning a new perspective in Finnish. They handpick leading contemporary designers who are strong interpreters of their philosophy and combine their talents with the passionate Muuto creative team.
You will know their design because it has muutos: objects made sublime through new perspectives, enjoyed across the world, representing the best of Scandinavian design today.

All Muuto products come with a 3-year warranty.

SPECIAL ORDER ANY PRODUCT FROM THE MUUTO COLLECTION. CUSTOMISE STYLES, FABRICS, AND FINISHES.

BROWSE MUUTO WEBSITE >
Continue Reading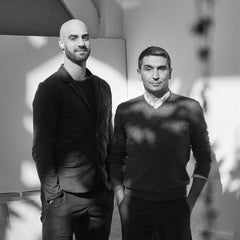 Click for more ideas from DESIGNER | Normal Studio
Normal Studio is a Paris-based design studio, founded in 2006 by Jean-François Dingjian and Eloi Chafaï. In their work, the duo attempts to promote elementary design that goes beyond trends and fads to create objects that will have a longstanding lifespan through timeless expressions. Designs by Normal Studio are part of the permanent collection of Paris' Musée des Arts Décoratifs and featured in various contemporary art foundations throughout France.
"We always work to promote elementary design. This means lesser attachment to the formal research of an object as compared to the tool that creates it, acting as the guiding star in the initial sketches for any project. Our approach has a deep attachment to the social and cultural values found within design, helping us creates timeless objects that go beyond trends."
says designers
Bulky item. Please note: Bulky items may not be able to ship to a PO box. Delivery calculated at checkout
shop risk-free with 30-day returns
international shipping available
---