PARTS: muuto | linear steel series | cover 140cm
PARTS: muuto | linear steel series | cover 140cm
Dimensions: 142 x 82 x 75cm high
Material: pvc coated polyester
Regular price
$185.00
$185.00
Cleaning and care: Clean with a damp cloth. If necessary, use a mild detergent or dish-washing liquid, not concentrated.
Click for more ideas from BRAND | Muuto
Muuto is one of Denmark's finest and complete designer brands. Deeply rooted in Scandinavian design aesthetics, they offer clean designs and timeless looks that fit into the desired environment, not just the "scandi" look. Expect modern materials, softened colours, and distinctive timeless shapes held together by exquisite craftsmanship.
In fact, their name, Muuto, comes from muutos, meaning a new perspective in Finnish. They handpick leading contemporary designers who are strong interpreters of their philosophy and combine their talents with the passionate Muuto creative team.
You will know their design because it has muutos: objects made sublime through new perspectives, enjoyed across the world, representing the best of Scandinavian design today.

All Muuto products come with a 3-year warranty.

SPECIAL ORDER ANY PRODUCT FROM THE MUUTO COLLECTION. CUSTOMISE STYLES, FABRICS, AND FINISHES.

BROWSE MUUTO WEBSITE >
Continue Reading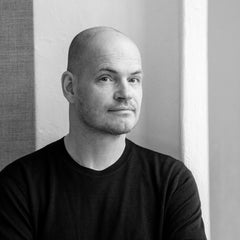 Click for more ideas from DESIGNER | Thomas Bentzen
Thomas Bentzen, former designer at Louise Campell Studio, started his own studio in 2010. He is the co-founder of the design collective REMOVE and his products have received international recognition at fairs and exhibitions all over the world.
"I like to create objects that are functional and simple, while satisfying a human need when in use and creating joy when idle. For me, durability means quality, form, and functionality and putting an immense amount of energy into making virtues out of necessities."
says Thomas Bentzen
Free delivery australia-wide (does not apply to bulky products) Top3 members receive free standard delivery Australia-wide for orders over $100
shop risk-free with 30-day returns
international shipping available
---