New Arrival
muuto | midst table | dark oiled oak + black base | 120cm
muuto | midst table | dark oiled oak + black base | 120cm
Dimensions: Diameter 120 x 73cm high
Material: Solid oak top treated with dark oil | powder coated steel base with protective rubber ring underneath.
Regular price
$6,349.00
$6,349.00
A natural focal point of the home, the Midst Table is a generous, round dining table where friends and family gather - and there is always room to squeeze in one more guest. Its refined silhouette is simple yet characteristic, enhanced by distinct detailing and contrasting materiality; matte solid oak or linoleum on a monolithic base made of spun steel with a durable high gloss finish.
TAF Studio on the design: "Midst Table is a meeting between the poetic and functional. The name refers to the centre and the table being a gravitational point, while its round shape cancels out hierarchy - there is no head of the table. Its shape naturally draws us in towards its middle, encouraging a meeting of minds and eyes. Our design process was one of subtraction and refinement. The Midst Table's form and construction was inspired by an iconic architectural feature, the column, merging a physical stability and steadfastness with a sense of elegance."

Also available with 160cm top (as shown in the lifestyle images) and in different finishes and colours. Please enquire for more details.

Manufactured in Latvia. 3 year warranty.
Please note: Table does not come assembled.

Cleaning and care for Solid Oak and Dark Oiled Oak:
Upon receiving your table, we recommend that the table top and bottom is treated with a special oak wood oil, improving its resistance to stains and fluids. We also recommend that you continue caring for the product by repeating this treatment 2-3 times a year.
For products in Solid Oak, we recommend using a tabletop oil with a small amount of white pigment, suitable for food applications.
For products in Dark Oiled Oak, we recommend using a smoked tabletop oil, suitable for food applications.
Avoid placing the table in the immediate distance of a heat source. Do not place hot or wet objects directly on the table, as they can leave a mark on the table top. Metal objects can leave a mark if left on the table for a longer period of time. Spilling should immediately be removed to avoid discolouring. Clean the tabletop often and carefully with a soft and dry cloth following the wood grain pattern. The product should not be exposed to excessive humidity, heat or direct sunlight. Clean base with a microfibre cloth to avoid scratching the high gloss paint. If necessary, use a small amount of mild dish soap on the cloth.
Click for more ideas from BRAND | Muuto
Muuto is one of Denmark's finest and complete designer brands. Deeply rooted in Scandinavian design aesthetics, they offer clean designs and timeless looks that fit into the desired environment, not just the "scandi" look. Expect modern materials, softened colours, and distinctive timeless shapes held together by exquisite craftsmanship.
In fact, their name, Muuto, comes from muutos, meaning a new perspective in Finnish. They handpick leading contemporary designers who are strong interpreters of their philosophy and combine their talents with the passionate Muuto creative team.
You will know their design because it has muutos: objects made sublime through new perspectives, enjoyed across the world, representing the best of Scandinavian design today.

All Muuto products come with a 3-year warranty.

SPECIAL ORDER ANY PRODUCT FROM THE MUUTO COLLECTION. CUSTOMISE STYLES, FABRICS, AND FINISHES.

BROWSE MUUTO WEBSITE >
Continue Reading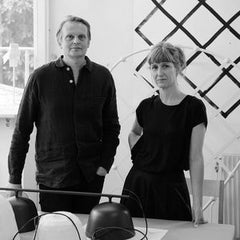 Click for more ideas from DESIGNER | TAF Studio
TAF Studio is a Stockholm based design and architecture studio founded by Gabriella Gustafson and Mattias Ståhlbom. Since its foundation in 2002, it has achieved international acclaim with a portfolio of work spanning touring exhibitions, interior design and a number of commercially successful products for different prestigious manufacturers. The studio has been exhibited at MoMa and its designs are now part of the permanent collections of Nationalmuseum in Stockholm and the Danish Design Museum in Copenhagen.
TAF's studio on Södermalm is located in a converted bakery that used to serve the neighbourhood. There is a nice twist to this, as TAF aims to fulfill a similar function as the bakery through its design — one where design isn't seen as superfluous but integrated into society on all levels, like the daily loaf of bread.

From this hotbed of the everyday, TAF Studio creates products of extraordinary quality. Through a process of careful investigation of materials and construction techniques and a healthy dose of discussion, the finished product is often both humorous and thought provoking; pendant lamps inspired by rubber bands and soda cans; tables made from oversized ice cream sticks; a doctor's surgery inspired by plasters; or a sculptural staircase built from cheap off cuts of kitchen worktops.

The process of tweaking readily available materials and using them in new and innovative ways demonstrates TAF's preoccupation with context and origin. The references are never overtly obvious, but once you know that plundering the landscape of mass produced consumables is part of TAF's process, it's impossible to look at one of its products without thinking: "Where have I seen this before?" The chances are you'll never know.
Continue Reading
Free delivery australia-wide (does not apply to bulky products) Top3 members receive free standard delivery Australia-wide for orders over $100
shop risk-free with 30-day returns
international shipping available
---