Last Chance
muuto | mini stacked 2.0 | backboard | oak + grey | medium - DC
muuto | mini stacked 2.0 | backboard | oak + grey | medium - DC
Dimensions: 33.2 x 26 x 32cm high
Material: mdf + oak veneer
Regular price
$319.00
$319.00
The Mini Stacked is a wall-hanging alternative to the Stacked Storage System with a lighter expression and smaller sizes, making the modules a perfect fit for smaller spaces such as kitchens, hallways, nightstands and bathrooms.
Each Mini Stacked module comes with one colour matching clip. Oak comes with one light grey clip.
Extra clips are sold in boxes of 5 clips. Choose between black, white, light grey, grey and dusty green.
Screws not included.
When mounting your Muuto product to a wall, it is important that it is mounted both securely and correctly. The best way to mount your product depends on the type of wall it is being attached to. If a wall plug is required, it is vital that you find one that fits both the screw and the wall material. If in doubt, ask for advice in your local hardware store. They will be able to assist you in finding the right wall plug and screw.
3 year warranty.
Country of Manufacturer: Slovenia
Click for more ideas from BRAND | Muuto
Muuto is one of Denmark's finest and complete designer brands. Deeply rooted in Scandinavian design aesthetics, they offer clean designs and timeless looks that fit into the desired environment, not just the "scandi" look. Expect modern materials, softened colours, and distinctive timeless shapes held together by exquisite craftsmanship.
In fact, their name, Muuto, comes from muutos, meaning a new perspective in Finnish. They handpick leading contemporary designers who are strong interpreters of their philosophy and combine their talents with the passionate Muuto creative team.
You will know their design because it has muutos: objects made sublime through new perspectives, enjoyed across the world, representing the best of Scandinavian design today.

All Muuto products come with a 3-year warranty.

SPECIAL ORDER ANY PRODUCT FROM THE MUUTO COLLECTION. CUSTOMISE STYLES, FABRICS, AND FINISHES.

BROWSE MUUTO WEBSITE >
Continue Reading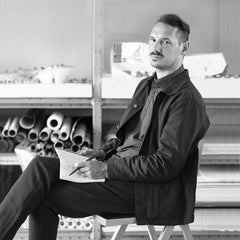 Click for more ideas from DESIGNER | Julien De Smedt
Julien De Smedt is the founder of JDS Architects, an award-winning, internationally acclaimed studio with an unconventional approach to architecture and design, always working to challenge the existing norms.
On the design philosophy of JDS Architects: "Our projects are humanly designed, politically engaged, financially viable, and structurally realistic."

On Scandinavian Design: "It has evolved in the past five years from a veneration of the simple and pure lines of the classics, to something more fluid through its involvement of multicultural issues, political presence, and opportunist productive methods. Its outcome has become something more eclectic and colorful, while the consistency of the classics is still oddly maintained, as if it was genetic."
Bulky item. Please note: Bulky items may not be able to ship to a PO box. Delivery calculated at checkout
shop risk-free with 30-day returns
international shipping available
---