Dimensions: 56.2 x 34 x 73.5cm high
Material: Solid smoked oak with oil finish (top) + powder coated steel (frame)
Regular price
$965.00
$965.00
An elegant side table with two planes, connected through a graphic leg for a modern expression. Pull the Relate Side Table up to a sofa to use as a hot desk or place it in any space to hold various objects.
3 year warranty
Please note: some assembly required.
Materials:
Solid smoked oiled oak
Oak is a traditionally Scandinavian material with durable abilities against factors such as water and fungi alongside a high level of strength, giving it long-lasting properties fit for furniture.
Care description
Clean often and carefully with a soft and dry cloth following the grain pattern. Periodically, clean with moist cloth. For long term care, it is recommended that the tabletop is treated 2-3 times a year with special oak wood oil on both top and bottom of tabletop that assists with making the wood resistant to stains and fluids. The wood should not be exposed to excessive humidity, heat or direct sun light.
Powder Coated Steel
Steel is an alloy of iron with carbon. Powder coated steel has a subtle, textured expression and elegant feel while adding durability to the design and making it more resistant to corrosion. Powder coated steel is also highly chip resistant.
Store Availability
more stock due mid February
---
Click for more ideas from BRAND | Muuto
Muuto is one of Denmark's finest and complete designer brands. Deeply rooted in Scandinavian design aesthetics, they offer clean designs and timeless looks that fit into the desired environment, not just the "scandi" look. Expect modern materials, softened colours, and distinctive timeless shapes held together by exquisite craftsmanship.
In fact, their name, Muuto, comes from muutos, meaning a new perspective in Finnish. They handpick leading contemporary designers who are strong interpreters of their philosophy and combine their talents with the passionate Muuto creative team.
You will know their design because it has muutos: objects made sublime through new perspectives, enjoyed across the world, representing the best of Scandinavian design today.

All Muuto products come with a 3-year warranty.

SPECIAL ORDER ANY PRODUCT FROM THE MUUTO COLLECTION. CUSTOMISE STYLES, FABRICS, AND FINISHES.

BROWSE MUUTO WEBSITE >
Continue Reading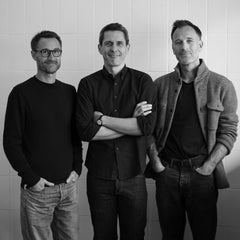 Click for more ideas from DESIGNER | Big-Game
Big-Game is a design studio created in 2004 by Augustin Scott de Martinville, Elric Petit and Grégoire Jeanmonod based in Lausanne, Switzerland. The studio has received a number of awards, including the Wallpaper Design Award, the Swiss Design Award, the iF Design Award and more.
"We like to think of our work as being rooted in simplicity, functionality and optimism, expressed through physical products."
Bulky item. Please note: Bulky items may not be able to ship to a PO box. Delivery calculated at checkout
shop risk-free with 30-day returns
international shipping available
---