muuto | under the bell pendant | white melange 82cm
muuto | under the bell pendant | white melange 82cm
Regular price
$1,349.00
$1,349.00
UNDER THE BELL is a pendant lamp that is multi-functional as the design not only provides an ambient light but also enhances the acoustics of the room. With its raw, tactile texture that comes from its shade being produced using recycled plastic felt, Under The Bell is an example of modern design with hints to Scandinavian values. The design blends effortlessly into open spaces within any home.
The Under the Bell pendant lamp is made from a large sheet of PET material which is heated in a mould and pressed into its shape.
Cord length 500cm
Round ceiling cap included (diameter 11.5 x 3.5cm)
Bulb not included
Dimmable function
Cleaning and care: Vacuum to remove dust. Clean off any marks with a clean moist cloth. Always switch off the electricity supply before cleaning.
3 year warranty.
'Under The Bell is more than just a lampshade. When situated over a table or in an open space, the bell shaped light creates its own space within the environment. As such, the design embraces and shelters the people underneath, both in a physical and abstract manner, for an intimate atmosphere. The design is made using fibres from recycled plastic bottles that, along with its unique shape, enables Under The Bell to absorb sound and improve the acoustics of any room.' design duo Iskos-Berlin say on their design.
Click for more ideas from BRAND | Muuto
Muuto is one of Denmark's finest and complete designer brands. Deeply rooted in Scandinavian design aesthetics, they offer clean designs and timeless looks that fit into the desired environment, not just the "scandi" look. Expect modern materials, softened colours, and distinctive timeless shapes held together by exquisite craftsmanship.
In fact, their name, Muuto, comes from muutos, meaning a new perspective in Finnish. They handpick leading contemporary designers who are strong interpreters of their philosophy and combine their talents with the passionate Muuto creative team.
You will know their design because it has muutos: objects made sublime through new perspectives, enjoyed across the world, representing the best of Scandinavian design today.

All Muuto products come with a 3-year warranty.

SPECIAL ORDER ANY PRODUCT FROM THE MUUTO COLLECTION. CUSTOMISE STYLES, FABRICS, AND FINISHES.

BROWSE MUUTO WEBSITE >
Continue Reading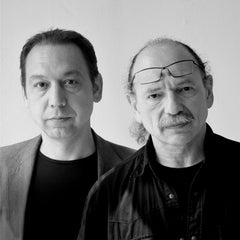 Click for more ideas from DESIGNER | Iskos-Berlin
Iskos-Berlin is a Copenhagen-based design duo that has made waves within furniture, industrial and graphic design. The studio, formerly known as Komplot Design, has collaborated with some of the world's most prestigious manufacturers and their furniture, lighting, and other design products, are exhibited at numerous design museums around the world, including MoMA and the Danish Design Museum.

"We see design as an art of storytelling. This story is normally quite complex, consisting of semantics, orphology, materiality, technology of objects and many other elements. But the clearer your story is, the more likely people are to understand it. The more surprising you make your story, the more likely they are to remember it. And finally, the more you make people smile, the more likely they are to love it."
Bulky item. Please note: Bulky items may not be able to ship to a PO box. Delivery calculated at checkout
shop risk-free with 30-day returns
international shipping available
---