secrid | premium card protector | frost titanium
secrid | premium card protector | frost titanium
Dimensions: 10.2 x 6.3 x 0.8cm | 48 gram
Material: Anodised aluminium and stainless steel
Regular price
$79.90
$79.90
The most minimal wallet and the heart of all Secrid products. The patented mechanism allows you to slide out your cards with one simple motion, ready for immediate use. The aluminium casing protects from bending, breaking and unwanted wireless communication (RFID safe).

First Metal Lever
The eye-catching metal lever is made from durable stainless-steel metal and especially crafted for the Premium collection. It is the next evolutionary step for the patented Secrid mechanism. The metal lever also magnifies the iconic Secrid click as your cards are revealed.

Holds:
4 embossed or 6 flat cards

Care and repair: The Cardprotector is made of anodised aluminium, plastic and stainless steel and is impervious to water. You can clean the Cardprotector with a soft cloth and soap and rinse it with warm water. However the salt in seawater can affect the metals, so we recommend rinsing the Cardprotector with fresh water after contact with salt water. Make sure the mechanism is dry before using your wallet again.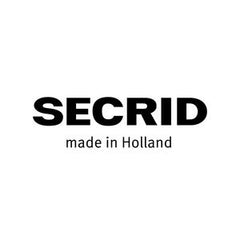 Click for more ideas from BRAND | Secrid
Since the start of the Secrid journey 20 years ago, René and Marianne have continued to merge their backgrounds in fashion and product design to create pocket-sized essentials in the Netherlands.
In 2008 they chose to follow their big dream: a house brand and product line, developed from their own vision. They put all their knowledge and experience to work to design the ultimate card holder. In 2009, they launched the Secrid Cardprotector on the market, which won them a Red Dot Design Award in 2010. In the same year, they started marketing their own line of leather wallets. In 2012, they won the Aluminium Award with their Secrid Miniwallet.
They work together with their three children and almost 100 colleagues in a renovated industrial warehouse: a big family home serving as a creative centre for new pocket-sized products and services.
Now they have many lines of pocket-friendly products including, Secrid Cardprotector, Secrid Miniwallet, Secrid Twinwallet, Secrid Moneyband, and more as well as premium versions of all mentioned products.
Continue Reading
free delivery australia-wide (does not apply to bulky products) Top3 members receive  Free standard delivery Australia-wide for orders over $100 (does not apply to bulky products) read more
shop risk-free with 30-day returns
international shipping available
---