secrid | twinwallet | original red
secrid | twinwallet | original red
Dimensions: 10.2 x 7 x 2.5cm | 130gram
Material: European cowhide
Regular price
$159.90
$159.90
With two Cardprotectors to hold double the content, the Twinwallet carries up to 16 cards, banknotes and receipts, but remains compact in size.
The patented mechanism allows you to slide out your cards with one simple motion, ready for immediate use. The aluminium protects from bending, breaking and unwanted wireless communication.
Holds
8 embossed or 12 flat cards
4 extra cards
Banknotes
Business cards
Receipts
Leather
ORIGINAL has a smooth semi-aniline finish. Whether you're wearing a suit or worn jeans, this smooth leather with its naturally glossy finish fits every style.
For centuries, cash served as the primary method of payment. The arrival of high-tech cards caused a rapid replacement of these traditional means. This new era of technology calls for a new type of wallet. One that protects your cards and money, but also your privacy.
No more bending and breaking
Sitting on a traditional wallet in your back pocket causes plastic cards to bend and become more liable to break. With an aluminium core, the Secrid wallets protect your cards while remaining small enough to fit in any pocket.
RFID / NFC protected
Modern cards, such as travel cards, creditcards and access cards, contain a chip and antenna for wireless communication. These RFID (Radio-Frequency IDentification) or NFC (Near Field Communication) cards increase convenience, but consequently the risks too. They can be read, activated and cloned from a metre away, without you noticing. The Cardprotector, the aluminium heart of all Secrid wallets, protects your cards from this kind of unwanted wireless communication.
Thanks to the patented mechanism and the aluminium casing of the Cardprotector, your cards remain protected even during use. By revealing only a portion of the cards, the sensitivity for the radio signal is substantially reduced but sufficient for contact over short distances. By minimising the exposure, you remain outside the reach of digital pickpockets, even while using your cards.
Please note: Secrid wallets aren't radio frequent devices that cause interference by sending out frequencies (The aluminium case only blocks the radiation that comes from other devices).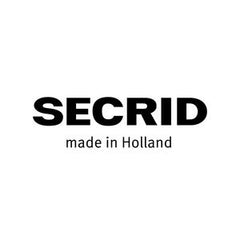 Click for more ideas from BRAND | Secrid
Since the start of the Secrid journey 20 years ago, René and Marianne have continued to merge their backgrounds in fashion and product design to create pocket-sized essentials in the Netherlands.
In 2008 they chose to follow their big dream: a house brand and product line, developed from their own vision. They put all their knowledge and experience to work to design the ultimate card holder. In 2009, they launched the Secrid Cardprotector on the market, which won them a Red Dot Design Award in 2010. In the same year, they started marketing their own line of leather wallets. In 2012, they won the Aluminium Award with their Secrid Miniwallet.
They work together with their three children and almost 100 colleagues in a renovated industrial warehouse: a big family home serving as a creative centre for new pocket-sized products and services.
Now they have many lines of pocket-friendly products including, Secrid Cardprotector, Secrid Miniwallet, Secrid Twinwallet, Secrid Moneyband, and more as well as premium versions of all mentioned products.
Continue Reading
Free delivery australia-wide (does not apply to bulky products) Top3 members receive free standard delivery Australia-wide for orders over $100
shop risk-free with 30-day returns
international shipping available
---