Last Chance
tom dixon | copper pendant light | round 25cm - 3DC
tom dixon | copper pendant light | round 25cm - 3DC
Dimensions: diameter 25 x 23cm high
Material: polycarbonate
Regular price
$750.00
$750.00
Intended to create an extravagantly proportioned spotlight that could warm the greenish hue of early LEDs and create a more appealing luminosity, Copper shade is an over-sized, blow moulded and perfectly reflective globe that kick started the recent craze for copper in interiors the world over.

The Copper Shade is instantly recognisable for its highly reflective surface with a warm metallic glow, achieved through the technologically advanced process of vacuum metallisation.

top3 deep dive into tom dixon >

E14 25W (Max). Bulb not included.

Copper lights are created through a process of blow moulding and vacuum metallisation to achieve perfect spheres with abundant and unusual luminosity. Over several years we have worked with some forerunners of German engineering and manufacturing to develop these techniques and produce lamps that create the latest in reflectivity and transparency.
The intended aim of the original Copper was to produce a completely spherical, highly mirrored object. Through the use of injection blow moulding, a melted plastic polymer moulding is injected into a massive precision-made steel tool, inflated with compressed air and then cooled.
The perfect mirror finish of each pendant is then created by the highly technical process of vacuum metallisation. The polycarbonate shell is secreted in the interior of a metallic chamber, the air sucked out, and an immense electrical charge channelled through. With a bang and pop a thin strip of copper foil is vaporised into a fine mist of metallic particles that settles across the interior.
Please note: Small number of pinpricks / spots may be visible due to the vacuum metallisation process. These are not visible once the light is hung.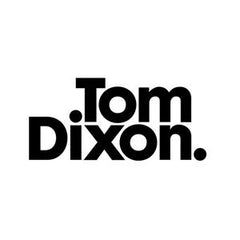 Click for more ideas from BRAND | Tom Dixon Studio
Established in 2002, Tom Dixon is a British design and manufacturing company of lighting and furniture. With a commitment to innovation and a mission to revive the British furniture industry, the brand is inspired by our nation's unique heritage.

Special order any product from the Tom Dixon collection. Customise styles, fabrics and finishes.


top3 deep dive into tom dixon >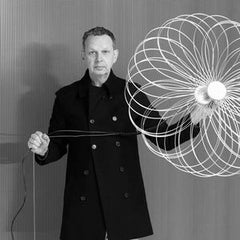 Click for more ideas from DESIGNER | Tom Dixon
Writing an introduction to the designs of Tom Dixon seems a bit obsolete – after all, he is a widely celebrated interior design superstar. He designed products from lighting to furniture, tableware through to candelabras. Tom Dixon's designs are instantly recognisable for their sculptural qualities and engineered materiality. And they'll grace your home with industrialised lux.

Tom Dixon is a restless innovator who works mainly in lighting, accessories and furniture. From his departure point in the early eighties welding salvaged steel into radical furniture, he has constantly reinvented himself through a series of different design lives – working with luxury Italian goods with Cappellini, Creative Director at Habitat and Artek, creating Plastics company Eurolounge and finally instigating his own eponymous brand in 2002 to rethink the product designer's relationship with industry.

The latest chapter of Tom's design journey began in 2002 when he left corporate life to create his own eponymous brand as a platform for a series of new adventures in the design of products and interiors.

15 years on, Tom Dixon is now a widely celebrated global force in interior design with his own hubs in New York, Hong Kong SAR, China, London, Los Angeles and Tokyo. His 600 products range from lighting to furniture, from tableware through to fragrance. They are instantly recognisable for their sculptural qualities and engineered materiality.

top3 deep dive into tom dixon >

Free delivery australia-wide (does not apply to bulky products) Top3 members receive free standard delivery Australia-wide for orders over $100
shop risk-free with 30-day returns
international shipping available
---